Electric medical table
Electric medical table
COINFYCARE

CHINA

30-40 days

1000 pcs

EL03EM
This Electric medical table has a very strong table designed to withstand constant heavy use with minimal maintenance.
Description:
This three section Electric medical table provides a strong and versatile frame and upholstery.
Electric medical table have very strong and versatile, suitable for a wide range of manual therapy techniques, Various medical procedures, osteopathy, massage and complimentary medicine.
Operation video: https://youtu.be/RiaSI7rerb0
Paper roll holder installation video: https://youtu.be/thPw82jRn8g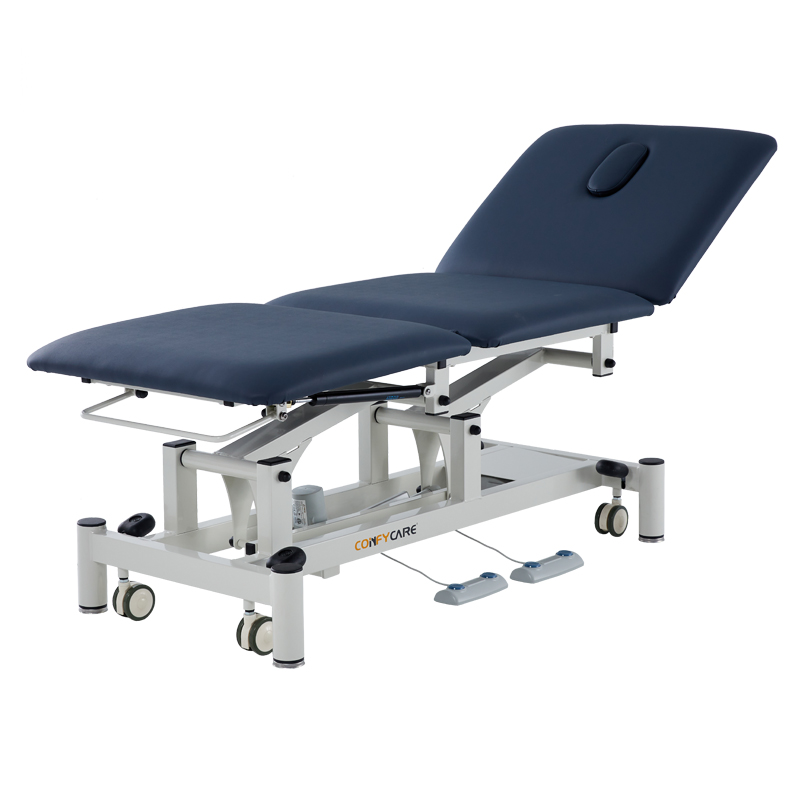 Standard Specification:
1. Two electric motors, standard supports "Timotion" brands for Hi-Lo & head section.
2. Lift for height variation by footbar system and head section by foot switch.
3. Height control from 46cm to 90cm in approx 30 seconds by footbar system.
4. Adjustable head section featuring one electric motor, angle adjustable from +70° to -42°.
5. Adjustable backrest featuring double stainless steel struts, angle adjustable from +65° to -40°.
6. Able to lift up to 250kgs working weight from its lowest height.
7. Retractable castors 75mm for excellent mobility and safety.
8. Electric medical table sleek design with four rounded frame legs for safety.
9. Adjustable feet on four frame legs work for uneven surfaces.
10. Fire/stain/mildew/oil/water/wear resistant Med PVC available in 6 kinds of colors.
11. Certificates: CE, FDA, ISO13485-2016, EN60601
Standard Options:
1. Extra 2cm foam thickness for upholstery.
2. Hand switch is available.
3. Paper roll holder is available
4. Fold-down Side Support (Pair)
5. Contact us for more available optional.
Dimensions:
Upholstery Length: 195cm
Head Section Length: 63cm
Middle Section Length: 63cm
Backrest Length: 63cm
Upholstery Width: 70cm
Adjustable Height: 46cm – 90cm
Foam Thickness: 5cm
Foam Density: 36g/m2
Open: 195 x 70 x (46-90)cm
Packing: 190 x 75 x 53cm (Heavy carton)
N.W./G.W.: 66/74kgs
20GP/40GP:36/72pcs
Electric medical table Size picture: