Mechanical traction table
Mechanical traction table
Coinfycare

China

30-40 days

1000 pcs

EL04
Mechanical traction table use the new intimate 360-degree circular touch-type switch adjustment, the liberation of the therapist's hands, any position of the lift control can improve the therapist efficiency.
Description:
The Mechanical traction table bed develops to offer static and intermittent lumbar and cervical traction treatments.
The Mechanical traction table use the taiwan professional medical DC motor putter, low noise, stability and strong.
Please noted, this table don't have traction machine.
Youtube video link: https://youtu.be/6mxQePywoBs
Standard Specification:
1. One electric motor, standard supports "Timotion" brand for Hi-Lo function..
2. Mechanical traction table height control by footbar system.
3. Max traction 16cm (between backrest and second section.
4. Adjustable angle machine mount and flexion stool.
5. Adjustable head section featuring single gas struts, angle adjustable from -45° to +40°.
6. Adjustable backrest featuring single gas struts, angle adjustable from 0° to +70°.
7. Mechanical traction table Able to lift up to 225kg working weight from its lowest height.
8. Retractable castors 75mm for excellent mobility and safety.
9. Mechanical traction table make a new design for triangular parts.
10. Fire/stain/mildew/oil/water/wear resistant Med PVC available in 9 kinds of colors.
11. Certificates: CE, FDA, ISO9001-2008, ISO13485-2007.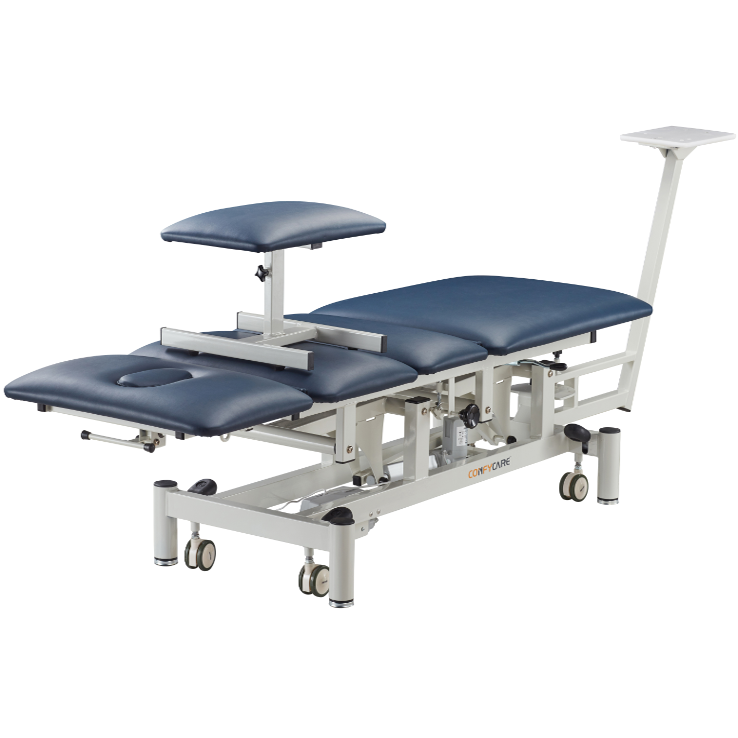 Standard Options:
1. Mechanical traction table EL04F Robin: Foot Switch.
2. Extra width upholstery up to 65cm or 75cm.
3. Extra 2cm foam thickness for upholstery.
4. Hand switch is available.
5. Paper roll holder is available
6. Contact us for more available optional.
Dimensions:
Upholstery Length: 195cm
Head Length: 40cm
Shorter seat length: 29cm
Longer seat length: 39cm
Backrest Length: 81cm
Upholstery Width: 66cm
Adjustable Height: 52cm–94cm
Foam Thickness: 5cm
Foam Density: 36g/m2
Open: 195 x 70 x (52-94) cm
Packing: 199 x 76 x 58cm (Heavy carton)
N.W./G.W.: 90/100kgs
20GP/40GP: 36/72pcs
Mechanical traction table Size picture: