Electric chiropractic bed
Electric chiropractic bed
Coinfycare

China

30-40 days

1000 pcs

EL08F
Electric chiropractic table applicable to a variety of department needs, rehabilitation training, Chinese medicine massage, orthopedics and so on.
Description:
This is Electric chiropractic table a versatile table providing flexibility for your practice.
Electric chiropractic table can be for the waist, neck, shoulder, foot and other parts of the role of adjuvant therapy to do the syndrome.
Youtube showing video link: https://youtu.be/4Jsp_jzCK6Y
The operation video: https://youtu.be/C5B8JyMkfFQ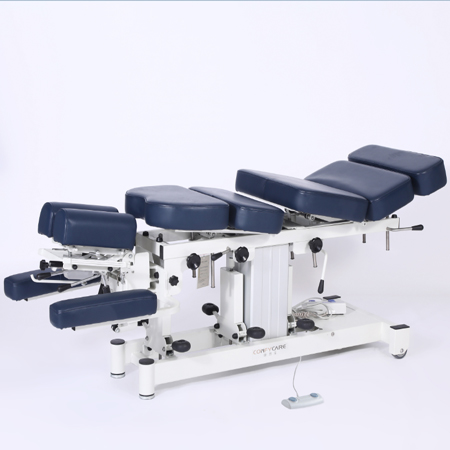 Standard Specification:
1. One electric motor, standard supports "Timotion" brand for Hi-Lo function.
2. Height control from 60cm to 80cm by footbar switch.
3. Electric chiropractic table have two retractable wheels and Two adjustable feet
4. Electric chiropractic table Able to lift up to 225kg working weight from its lowest height.
5. Retractable castors 50mm for excellent mobility and safety.
6. Electric chiropractic table make a new design for triangular parts.
7. Fire/stain/mildew/oil/water/wear resistant Med PVC available in 9 kinds of colors.
8. Certificates: CE, FDA, ISO13485-2016, EN60601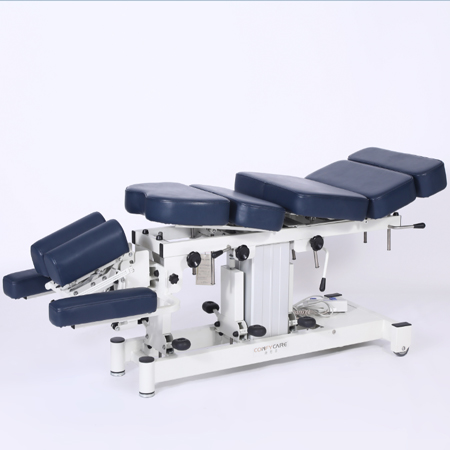 Product feature:
1. To raise the Thoracic, Lumbar and Pelvic sections.
It has the same method to adjust the height at thoracic, lumbar and pelvic section.
There is the black pedal under the side, put your foot step on the black pedal, to raise the thoracic, lumbar and pelvic section, and using the knob to adjust the strength like the head section.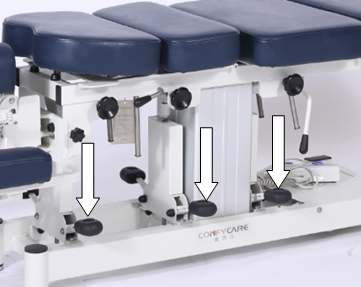 2. To adjust the Thoracic, pelvic and leg section angle.
The thoracic, pelvic and leg section can adjust angle by hand,
Let the section down by the spanner.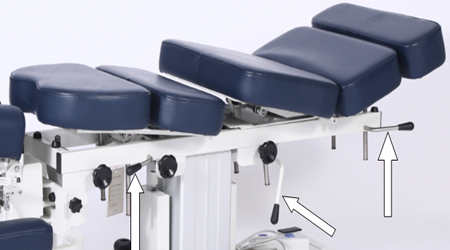 Dimensions:
Upholstery size: see drawing as blelow
Foam Thickness: 8cm
Foam Density: 110 g/m2
Open: 175 x 54 x (60-80)cm
Packing: 200 x 70 x 80cm (Wooden carton)
N.W./G.W.: 120/150kgs
20GP/40HQ:27/76pcs
Electric chiropractic table Size picture: